Welcome to The Pacific Palisades
Pacific Palisades lies west of Brentwood, south of Malibu, and north of Santa Monica, in one of the most beautiful spots along the California coast. The Santa Monica mountains protect and surround the community, and the ocean breeze provides a sense of cool, and calm. The sky is big and clear, and the sunsets are spectacular. Fabled Sunset Boulevard begins its eastern journey here, winding through neighborhoods nestled in the foothills and in the canyons.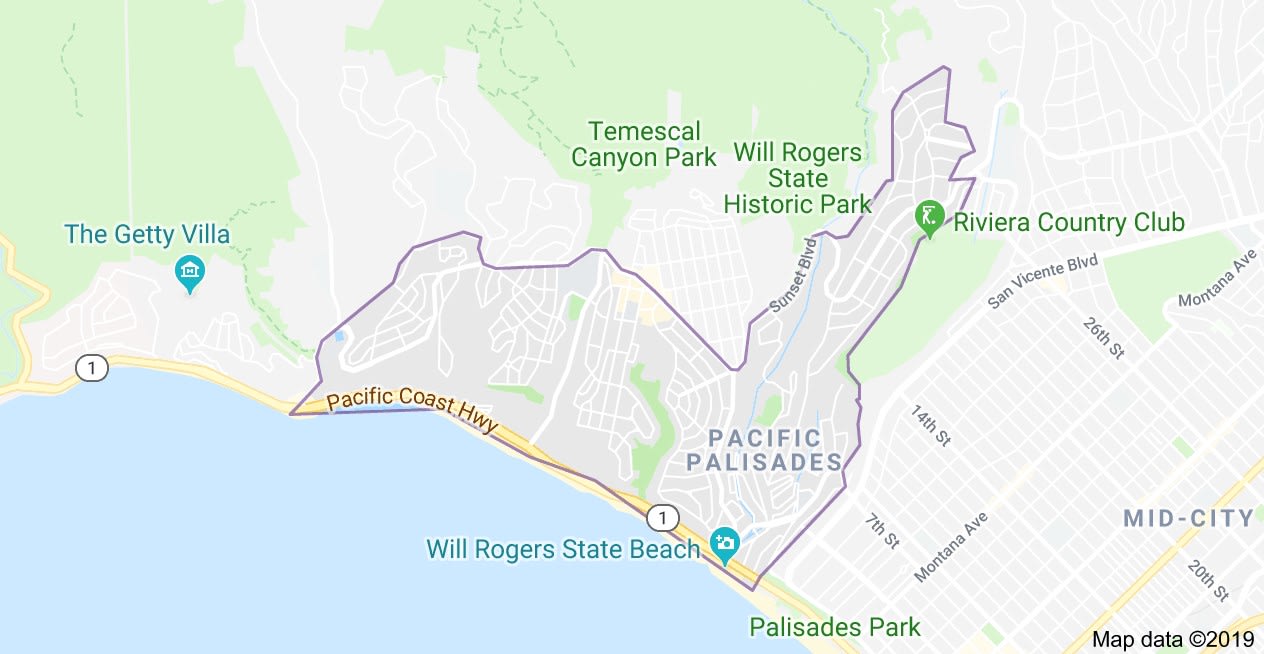 Describing this part of Los Angeles, most often the word is low-key. Pacific Palisades is a family-oriented town. Schools and parks dominate weekend events. Residents "hang out in the Village or the Country Mart, play golf at the world-famous Riviera Country Club, watch polo matches at Will Rogers Park, hike through the mountain trails, or sit on the beach, watching the sailboats.
Even though the community is home to many of the most high-powered people in Los Angeles, the feeling in Pacific Palisades is relaxed and informal.
Tradition and a sense of legacy thrive here, held together by an old-fashioned weekly newspaper, (The Palisadian Post) the Chamber of Commerce, and countless other community services and events.
Ten minutes away, Santa Monica has a new and beautiful shopping mall, (Santa Monica Place) lively pedestrian promenade (Third Street Promenade), and movies. The Broad Theater, Douglas Theater, and Geffen Playhouse provide theater experiences within a twenty-minute drive. The Getty Villa, with its striking architecture and amazing antiquities collection, is at the northern end of the Pacific Palisades. World-class music, opera, and theater can be found downtown at the Center Theater Group and the Music Center ( Mark Taper, the Ahmanson, Disney Concert Hall, and the Dorothy Chandler Pavilion) Culture lovers brave the freeways to partake, and partake they do. There is simply nothing like a warm summer evening in a box at the Hollywood Bowl.
Upscale and private, homes in Pacific Palisades start at seven figures and go up from there. Most have swimming pools; many have views of the sky, treetops, the ocean, and beyond. In a variety of styles, modern, traditional, Spanish, and ranch, homes are beautifully maintained and decidedly individual. In the spring, blue blooming jacaranda trees in gardens and along the parkways take your breath away.
Pacific Palisades is a friendly and welcoming community. There is ready access to household and personal services, wonderful health care, and beautiful shops and restaurants. Many of its residents travel all over the world and return feeling lucky. Pacific Palisades is as pretty as the Amalfi Coast, as sophisticated as Provence, and as picturesque as parts of Cape Cod and the Hamptons.